Fluid Flow Ltd (known as The Fluid Group) are specialists in CFD (Computational Fluid Dynamics) for Water, Chemical and Environmental Engineering.

A standard technique for the automotive and aeronautical industries, environmental and chemical CFD modelling is state-of-the-art 3D Flow Simulation using Navier-Stokes equations.

We can also layer on bespoke electrical, chemical or magnetic field modelling, or simply produce a model of the largest fluid structure eg. a reservoir, river or lake, you can imagine.

So whether it is a simple model of a mixing tank, or a complex, dynamic, multi-component engineering project, we will provide a 3D solution and analyse it to provide the answers you require.

Typical modelling projects include:

- gas, liquid and solid modelling ;
- clarifier, mixing tank or reservoir design;
- pumping stations;
- flotation or solids separation;
- contact tanks;
- chemical engineering plant optimisation.

For a proposal and quotation specific to your problem, call 0845 055 8571, or (01865) 596108.
Also e-mail info@thefluidgroup.com for a quick response to any query.
In the meantime please feel free to look at some of the projects we have recently been involved with.
Drop Shaft
An example draft shaft, where flow enters before being transferred down in to a lower sewer.
Clairifier solids
Solids profile within a vertical slice (of a 3D clarifier CFD model) showing how the inlet flow disturbs the surface of solids which have settled in the clarifier.
Clarifier
Sludge blanket within a paper mill waste clarifier. Features in the surface are due to density currents within the tank.
Inlet Works: Vortices
Velocity profile for four pump sumps, identifying areas with high velocity and used to eliminate vortex formation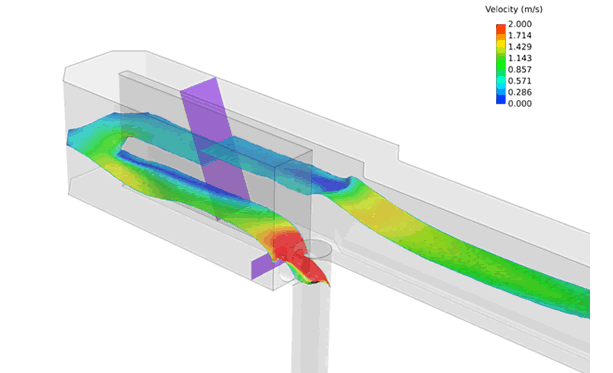 Inlet Works: Surface Feature formati
A relatively simple design of inlet works was modelled and identified an unwanted critical flow feature on the surface upstream of the screens. Further design iterations with CFD successfully removed this feature.
Storm Inlet: Flow Distribution
An upgrade to an existing inlet tank, showing flow distribution under storm conditions to downstream pumps.
Contact Tank
Velocity profile through a chlorine contact tank
Pumping Station: Storm Flow
Extreme turbulence in a small pumping station receiving high level flow during a storm event.
Digester mixing
Vertical slice through an anaerobic digester, showing mixing induced by two mechanical mixers.